SUSTAINABILITY
Sustainability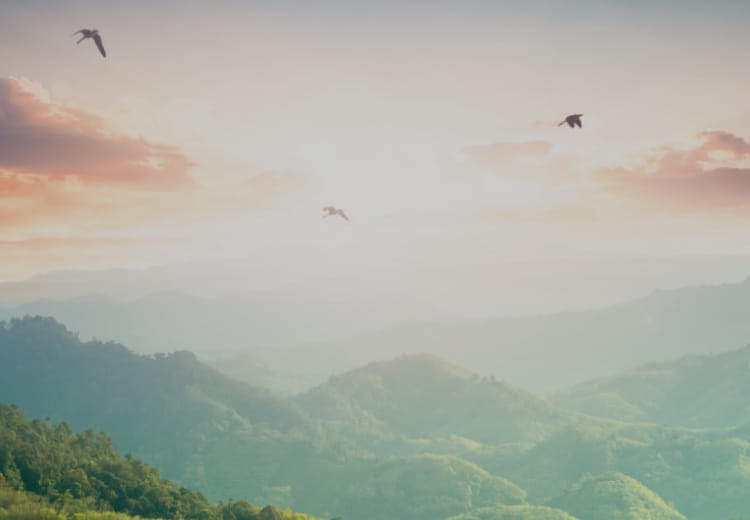 Hirose Group Philosophy
We continue to support
a prosperous society
through high-quality, reliable technology
and will-honed on-site capabilities.
"A prosperous society" in the Hirose Group philosophy includes various meanings. With our philosophy, Hirose Group contributes to a secure and safe lifestyle and environmental sustainability through our business.
Environmental Initiatives
Hirose Group has built a recycling-oriented business model desirable to achieve a material-cycle society. Through business of each member company in our Group, not only will we work on solving global environmental issues, but will contribute to a secure and safe life in a sustainable society.
Meeting for Technology Research
We have developed these technologies and methods to promote business that contributes to society. As our efforts to assist such business, from 1995 we have held a meeting for researching technology every year for the past 25 years.
The objective of this meeting is to share the achievements of the past year, such as cases of how complicated demands on site were addressed, the technology developed, the subjects researched and our initiatives, as well as to create evolution.
Recycling-oriented Business Model
Temporary Steel Construction Structure
From the point of view that Japan could not maintain its economy in the future if it continued mass production, mass consumption and mass disposal, the Basic Act on Establishing a Sound Material-Cycle Society was enacted in 2000. In addition, the system for separating garbage and recycling has been well developed. At first, recycling was the mainstream, but since there were some technological problems in achieving it, and since waste reduction was difficult to achieve only by recycling, a new concept called Three R's was introduced.
Reuse, Reduce, Recycle
The leasing of heavy temporary steel materials, which was the initial business of HIROSE & CO., LTD., started in 1938 as the reuse business of sheet piles. This is a service whereby we remove the mud from sheet piles used on a site, service them, and then lease them out again for use at another site. Based on the philosophy that we should use things with care, we have been contributing to the effective reuse of steel materials in the construction industry for 60 years before the Three R's were proposed.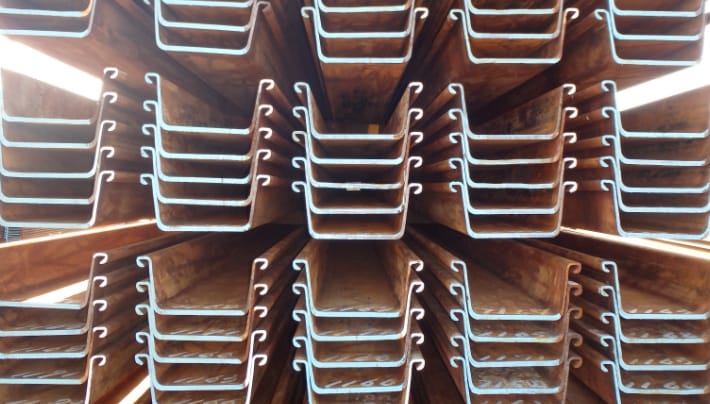 Reduction of CO2 Emission
Evolution (development) of earth retaining materials
Hirose Twin Beam® developed in 2016. This material is used as strut to secure the space for earth retaining work. Hirose Twin Beam® achieved the reduction of materials used compared to the conventional method, as it is highly efficiency. This indicates;
⇒ Reducing material installation work ⇒ Reducing the workload and shortening the work period ⇒ improving the efficiency of excavation work
⇒ Shortening the construction period
⇒ Improving safety
⇒ Reducing CO2 emissions by the reducing the number of transportation vehicles and lifting work.
As such, this method demonstrates various effects.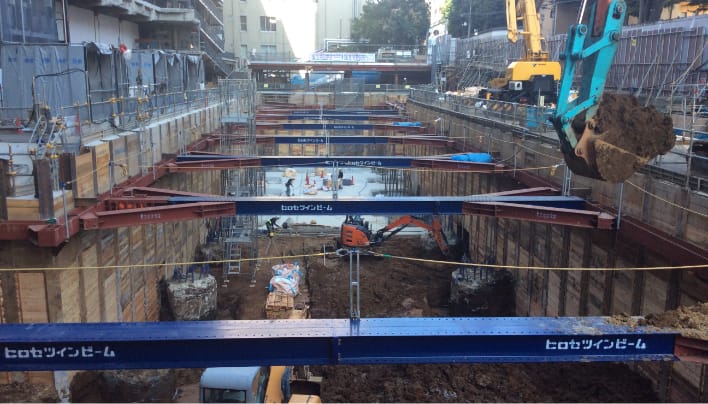 Protect Water. Protect infrastructure.
Pipe renewal work
Water on Earth constantly circulates and does not stay still. Water, when heated by the sun, evaporates to form clouds. Then, it returns to the earth as rain and snow, flow into rivers and seep groundwater, and runs into the sea. Such cycles are repeated.
In this cycle, we humans use water in the state of freshwater. For the sustainable use of water, it is important for us to ensure this natural water cycle is maintained. That is to say, water that humans use is also a part of the cycle. Thus, we have to return it as natural water.
We cannot return water to nature as wastewater. If we do, it will cause various problems. Wastewater needs to be treated at sewage treatment plants before it can be returned to nature. The sewerage system plays an important role in the water cycle of human activities. It is responsible for steadily transporting wastewater to treatment plants.
The pipe renewal business that Hirose Group is engaged in is to protect the sewerage system and prolong its life. We play a role in conserving water and protecting people's lives.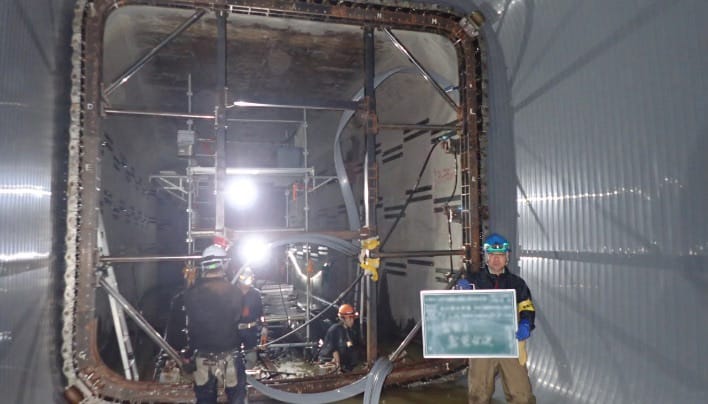 Supporting Daily Life from under the Ground
No-dig pipeline rehabilitation work
Most sewage pipes in Japan (total length approximately 400,000 km), which were installed during the so-called high economic growth period (40 to 50 years ago), are aging. Therefore, replacing or repairing those pipes is required. Meanwhile, it is not realistic that such maintenance is carried out by excavating the ground to take out old pipes and install new ones. During construction, roads would be closed due to traffic regulation, and toilets could not be used. In addition, cost-wise, such work would need significant amount of money.
Pipeline rehabilitation work by Hirose Group is called no-dig, which is the method to produce a new pipe inside the aging sewage pipe without excavating the ground. Even during construction, restricting car traffic is not required, and toilets can be used as usual.
We support people's prosperous life.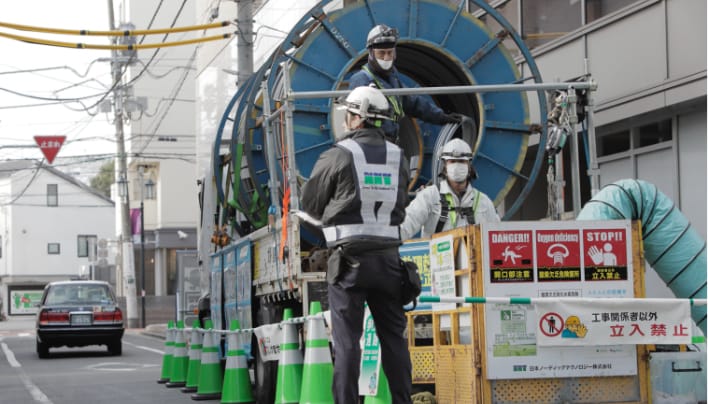 To Secure a Safe Life
Ground Reinforcement
Japan is frequently affected by disasters such as landslides cause by earthquakes and flooding from heavy rain. To prevent and reduce disasters is a pressing task. On residential land where the ground is made level by filling the slope with soil, there are events whereby houses are damaged due to landslides caused by sudden torrential rain. To prevent such disasters, we reinforce the retaining walls built to develop building lots. The Hirose Group's ground reinforcement work (called EP Root Pile Method) allows us to greatly reinforce the retaining wall on residential land, even in a narrow area lined with houses. In addition, this method is adopted as a measure to prevent landslides, as well as for ground reinforcement on steep sloping land.
Thus, we contribute to the improvement of a disaster-resistant life environment.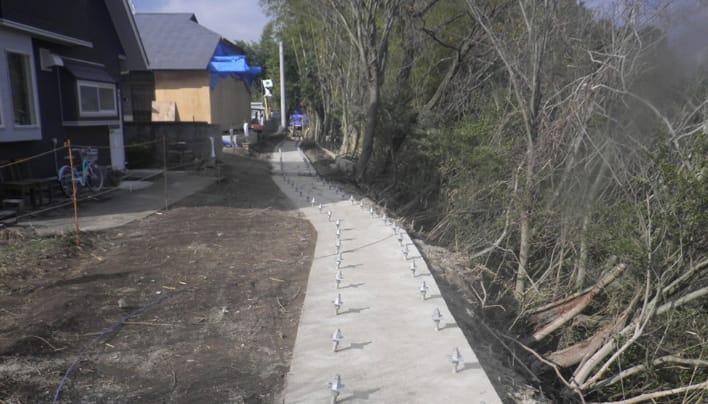 To Protect Infrastructure
Maintenance Technology by Terre Armée (TA) Method
One of the businesses Hirose Group engages in is sales of the Terre Armée Method. This method, introduced from France over 40 years ago, was often adopted in construction, especially expressway construction, during the period of economic growth in Japan. Deterioration over time is progressing even with the expressways that are indispensable for logistics and the transportation of people in Japan. Looking ahead to the future, we have developed a system that enables us to predict the condition of newly constructed roads after a certain period of time has elapsed. We have also developed the technology to repair wall face materials.
We contribute to society by protecting infrastructure and maintaining a prosperous life.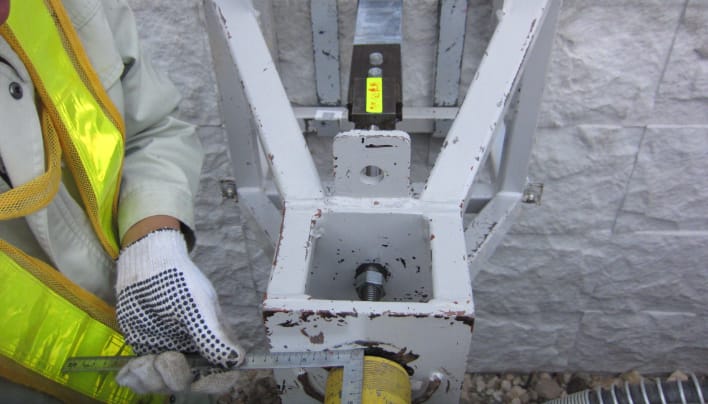 National Resilience and Soil Contamination Countermeasures
Flexible
Ecology & Economy Method
Producing walls in the ground is not only to secure the underground space. For example, some walls, enclosing contaminated soil, take on the role of preventing pollutants from flowing out with the groundwater. However, many earthquakes occur in Japan. There is a risk that walls in the ground may develop cracks or fractures as they shake during an earthquake. It can be assumed that pollutants contained inside the walls may flow out when the walls are destroyed by earthquakes. It is difficult to confirm even whether such walls are damaged or not, as they are built in the ground.
Hirose Group developed Flexible Ecology & Economy Method. This is a method called the earthquake-resistant water barrier wall, which is applied when constructing a wall in the ground, as it has both deformability and high water-impermeability. The wall, even from the shaking in an earthquake, is not damaged as it deforms to match the shaking, nor does it allow water to pass through. Additionally, the wall is produced by mixing naturally-derived materials into the soil obtained on site, which eliminates the discharge of surplus soil. This is an excellent, environmentally-friendly method. It is also the most suitable as a cut-off wall at a retention basin or river levee.
Though this method does not visibly stand out as the work is carried out in the ground, it supports our secure and safe life.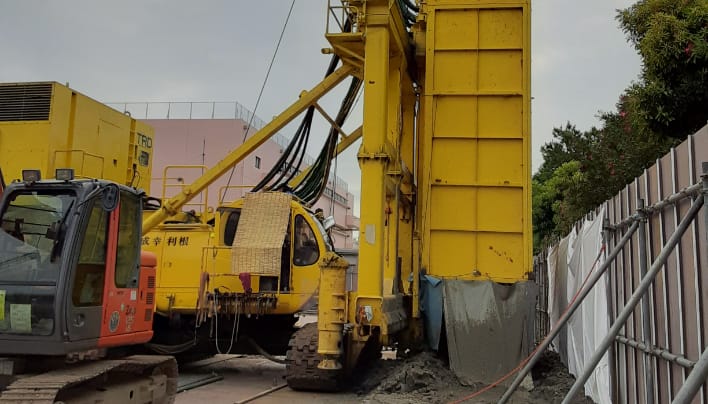 Effective Use of Resources
Recycling employees' work clothes
Hirose Group renewed its employees' work clothes in 2020. We collected old work clothes, not disposing of them but recycling the material. This is a recycling method in which the fabric of collected work clothes is turned into cotton-like raw material for recycled products. They are recycled into buttons for clothes and car seats. Work clothes amounting to approximately 3,700 tops and bottoms (150 regular-sized cartons), were subject to this project.
In the meantime, new work clothes after the renewal have the recycling symbol attached in advance, and they will be recycled once they become old.
We continue our contribution to the circular economy.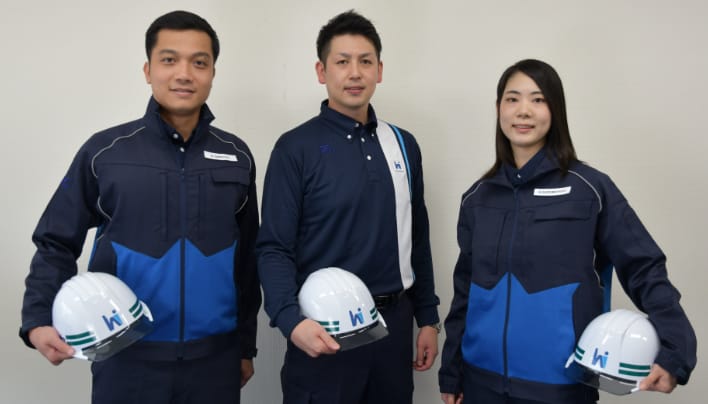 Safety and Security Initiatives
The most important mission for Hirose Group is to deliver safety and security to all our stakeholders. This is a social responsibility imposed equally on all those who are engaged in business activities, and the achievement of zero disasters is everyone's wish.
Since its founding, we, as a corporate group that plays a role in the creation of infrastructure, have contributed to achieving a prosperous society. Through our experience acquired working on various jobs both large and small, we fully recognize that safety is a lifeline.
It tends to be thought that safety is for the people who work on site. However, safety for Hirose Group means that all those engaged in our business think about the safety as our own, immediate issue. Therefore, no one should be indifferent about safety.
All of us return to our family uneventfully and safely. Such everyday life should be our norm. Because of this everyday life, we can do our best work and contribute to manufacturing. We strive to further our efforts as a company that will truly provide safety and security.
Relationship with Society and Hirose Group's Responsibilities
To contribute to a prosperous society, Hirose Group is engaged in social activities rooted in the community, as well as activities to contribute to the development of sports.