Planning/design
Design of heavy temporary construction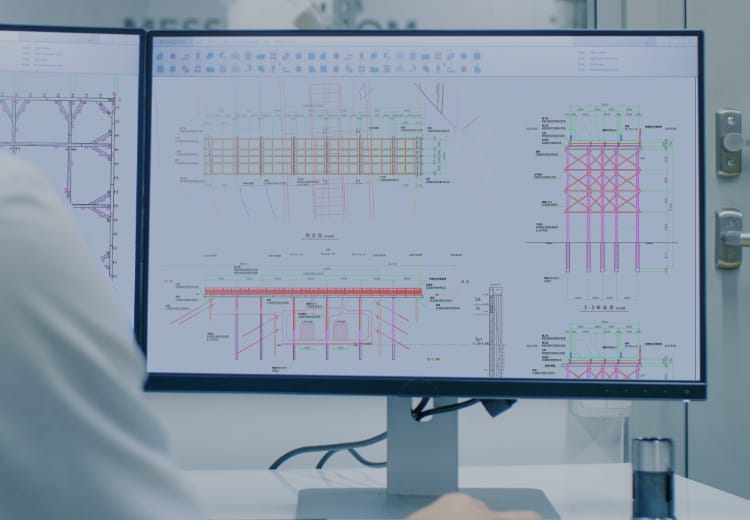 Heavy temporary construction means construction of earth retaining walls that support the ground excavated at a construction site to prevent collapse of soil, and erection/dismantling work of earth retaining shoring. This includes the erection and dismantling of platforms and piled jetties for construction works made of heavy temporary materials. We provide design services for these types of construction works.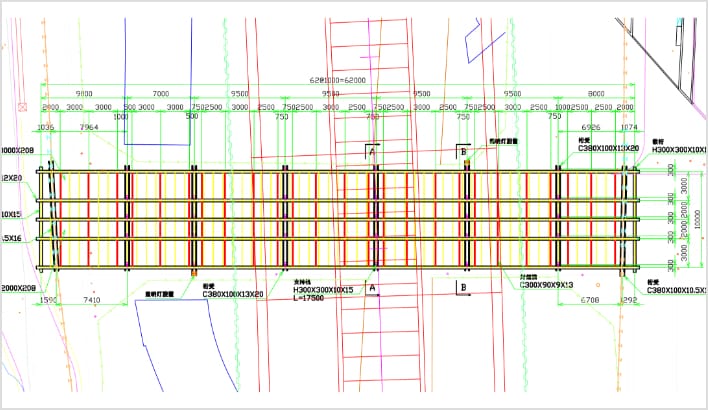 Temporary construction design, calculation, drafting
We design earth retaining and piled jetties using temporary materials (steel). Platforms and piled jetties are planned to be used for construction vehicle traffic and heavy machine operations.
Our Works
HIROSE & CO., LTD./Caddec Co., Ltd.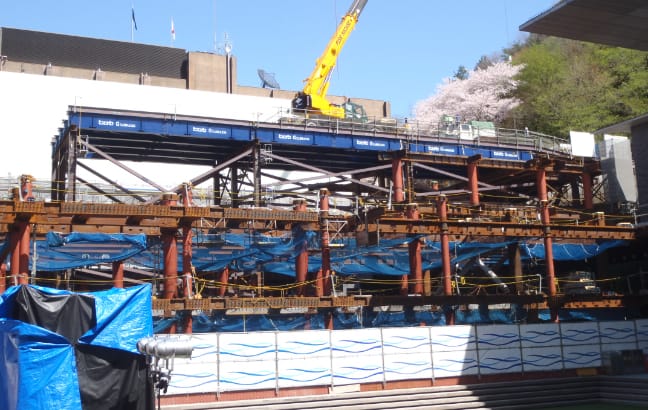 Large working space, reduced construction time
Platform construction using G-piled jetty®
Owner:

Kyoto Sangyo University
Site:

Kyoto Sangyo University Sagittarius-kan Construction Project
For students who are studying hard on campus, we tried to minimize the noise and vibration as much as possible by avoiding the use of a down-the-hole hammer in this pile installation. There was also a strong demand for shortening the construction period and we had to devise a way to meet this demand. In order to install large new stairs, the platform piles needed to be placed in a flat area (under the connecting corridor) avoiding the stairs.
HIROSE & CO., LTD./Caddec Co., Ltd.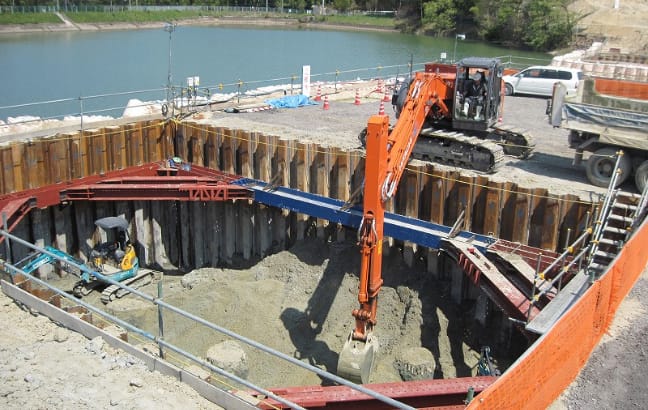 Hirose Mega Beam®, reduced construction period
Hirose Mega Beam®
Owner:

West Nippon Expressway Company Limited, Kansai Branch
Contractor:

Fujita Corporation
Site:

Shin- Meishin Expressway Yawata Junction construction Project
We proposed our Hirose Mega Beam®, high-strength wale, which is a combination of high-strength H beams and conventional H-beams. Since the shoring system includes no struts in the profile and needs no replacement struts, changes in the position of bar joints when constructing the pier, increases in the number of casting lots, and the assembly of scaffolding can be effectively facilitated in a large space.