Civil engineering/construction work
Leasing and sale of civil engineering
and construction materials

We procure, lease and sell a wide range of materials for civil engineering and construction, including heavy temporary materials for earth retaining shoring, temporary bridge materials, reinforced soil wall materials and steel pipes.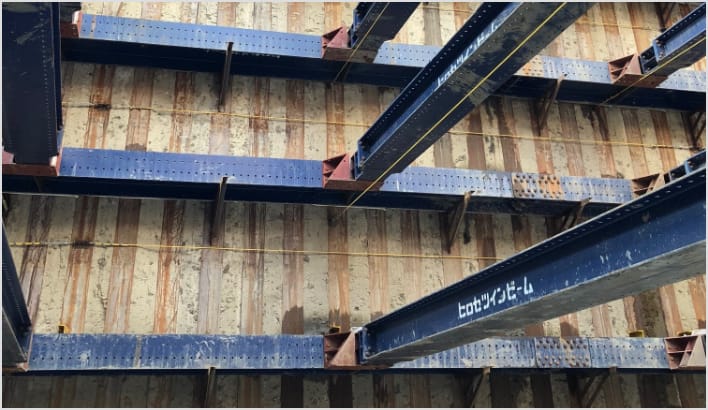 Hirose Twin Beam®
A shoring material made by combining two H-390 x 300 x 10 x 16 (SM490YA) specialized as a strut with high buckling performance. The cost of intermediate piles can be reduced by accommodating a long span.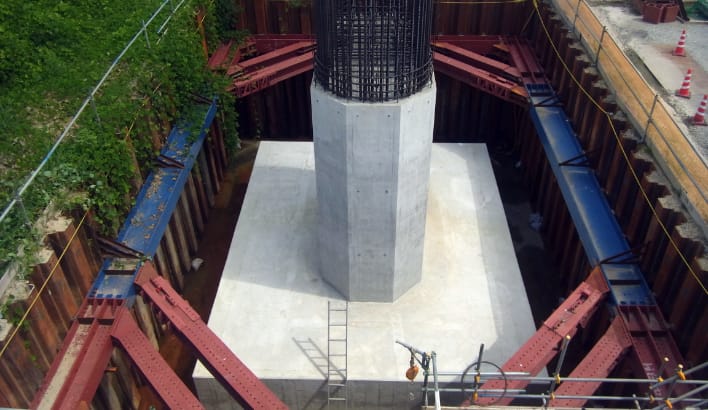 Hirose Mega Beam®
A high-strength wale that is twice the strength of a H-500 wale, with excellent workability with fewer joints.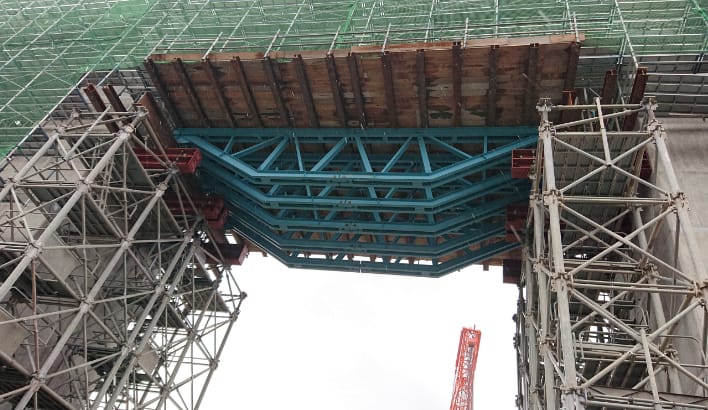 HS truss
The HS truss is a truss developed as shoring for floor slabs. This is used for floor slab shoring up to 12 to 28 m span and various other applications.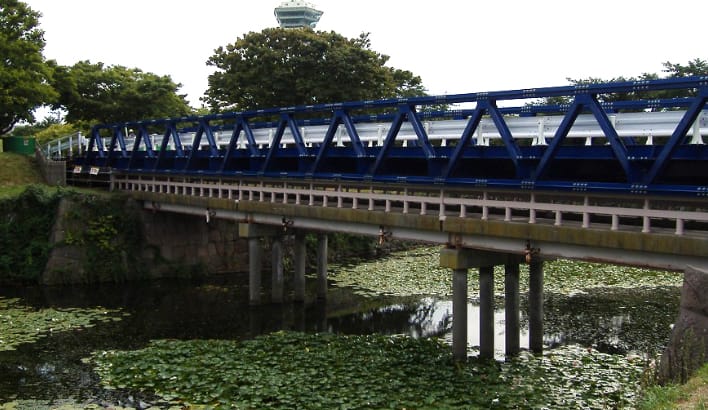 KD bridge
The KD bridge is a unit bridge developed by the German company Krupp and adapted to the Japanese standards. Longer spans can be achieved by combining triangular truss members.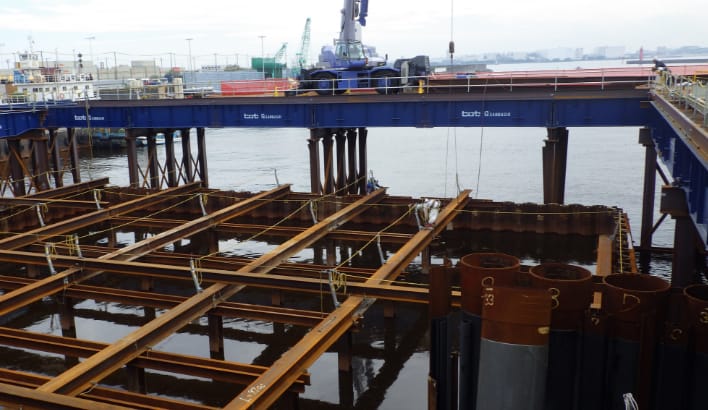 G-piled jetty®
G-piled jetty® enables long spans by using and leasing high-strength fabricated girders for temporary piled jetty for construction/operation, and reduces the construction period with a reduced number of bearing piles compared to conventional large H beams.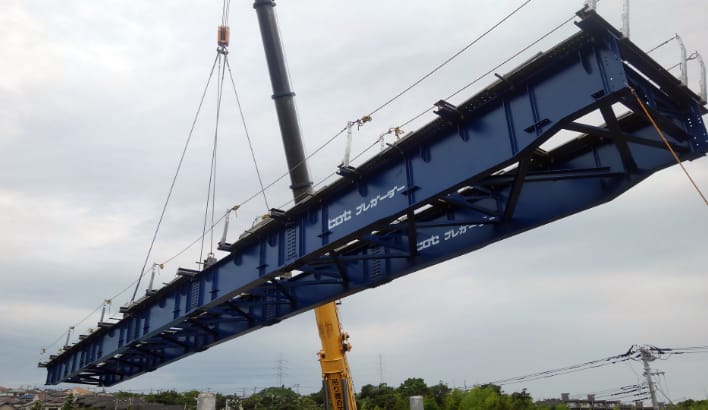 Pre-girder® bridge
Pre-girder® bridges are assembled plate girder bridges. This lightweight, strong and durable structure is used at many sites as a detour or construction road when replacing old bridges, or as an emergency assembly bridge (emergency recovery bridge) during post-disaster recovery.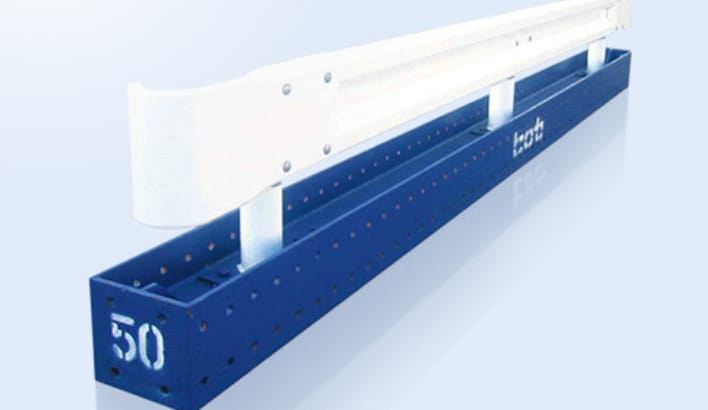 Guard one
Temporary guardrails for pedestrian and vehicular segregation and separation of work yards, using a principal earth retaining material as the base.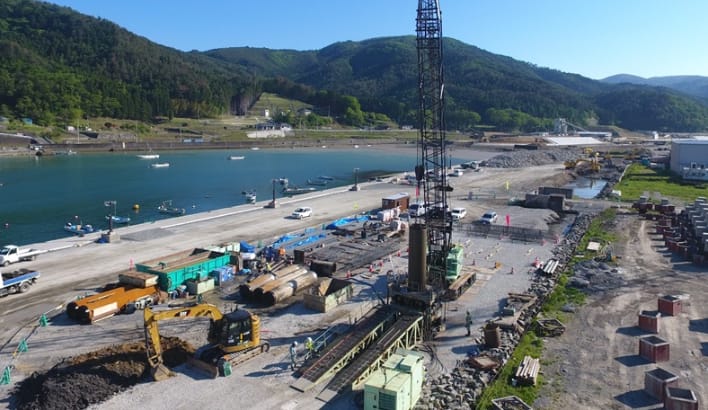 Steel pipes
We offer steel pipes used for ground reinforcement and piles for supporting structures.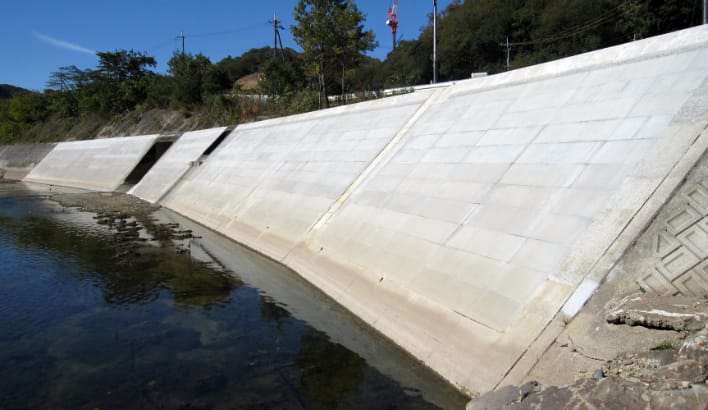 M1 wall
The M1 wall is a large panel-assembled block. Since it is a large block that consists of panels assembled on site, the length of braces and the wall slope can be freely chosen, allowing an economical plan suitable for the site requirements, such as specifications of rivers, including gentle slope, straight wall, and different front and back slopes.
Our Works
HIROSE HOKYODO & CO., LTD.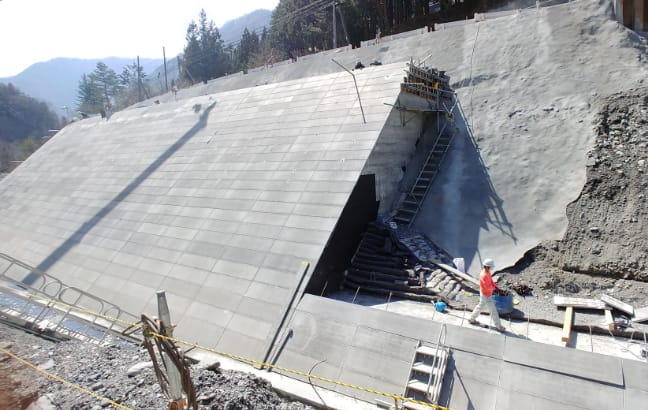 M1 wall: Large block for economic efficiency, workability and safety
M1 wall
Owner:

Kyonan Construction Office
Site:

Yamanashi Prefecture, Southern Alps Park Line
The part that collapsed due to a river disaster on the Southern Alps Park Line (Yamanashi Prefecture) was restored with the M1 wall. The use of highly-versatile components allows us to react quickly in the event of a disaster. We have obtained texture and brightness certificates applied to the Basic Policy for Disaster Recovery to Protect Beautiful Mountains and Rivers.
HIROSE HOKYODO & CO., LTD.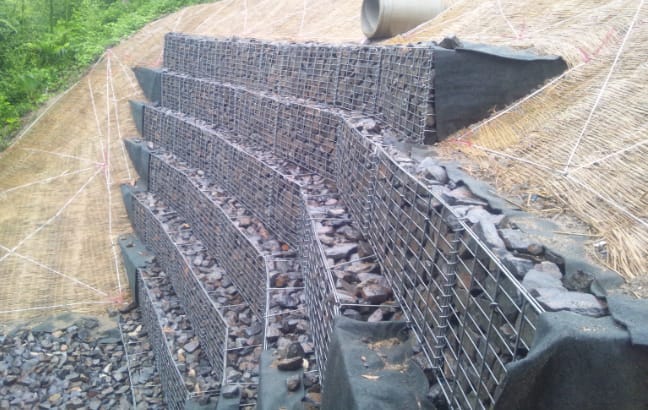 Hirose hyper wall®: Large cage frame used in landslide disaster restoration work
Hyper wall®
Owner:

Yamashiro South Civil Engineering Office
Site:

Landslide disaster restoration work (National Highway163)
Hyper wall® was adopted in the restoration of the landslide that occurred in April 2012 (National Highway 163). As water was still flowing after the landslide disaster, a large permeable basket frame was used. This cage frame is made with welded wire mesh using pre-plated iron wire meeting the specifications for this installation. The use of Φ9 mm diameter rebar and optimum mesh spacing improve finished work quality and workability.
HIROSE (SINGAPORE) PTE. LTD.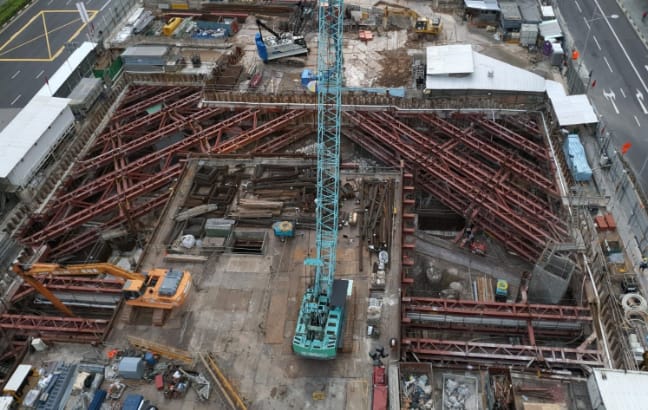 Strut, platform, steel sheet pile
Owner:

Hexagon Construction
Site:

Central Boulevard Towers
Location:

Singapore
HIROSE (THAILAND) LTD.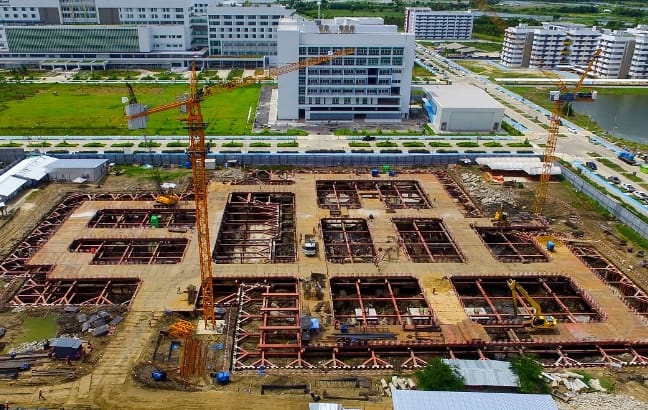 Steel sheet pile, horizontal strut, loading platform
Owner:

Power Line Engineering PCL
Site:

Pre Clinic RAMA Hospital
Location:

Samutprakarn Province
HIROSE VIETNAM COMPANY LIMITED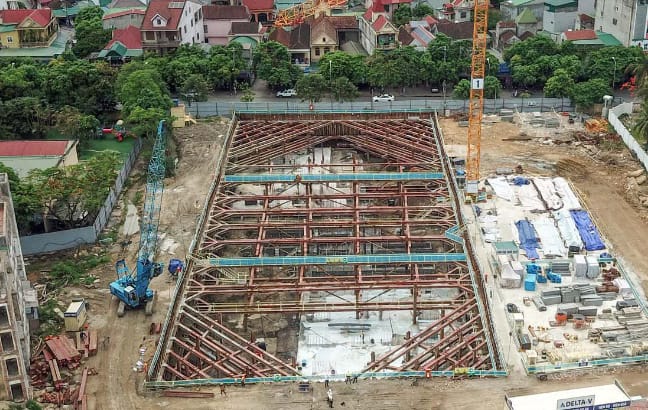 Horizontal strut construction method, working platform
Owner:

Delta V
Site:

TDC Vinh (Vinh Group apartment house construction project)
Location:

Vinh city - Nghe An