Civil engineering/construction work
Heavy temporary construction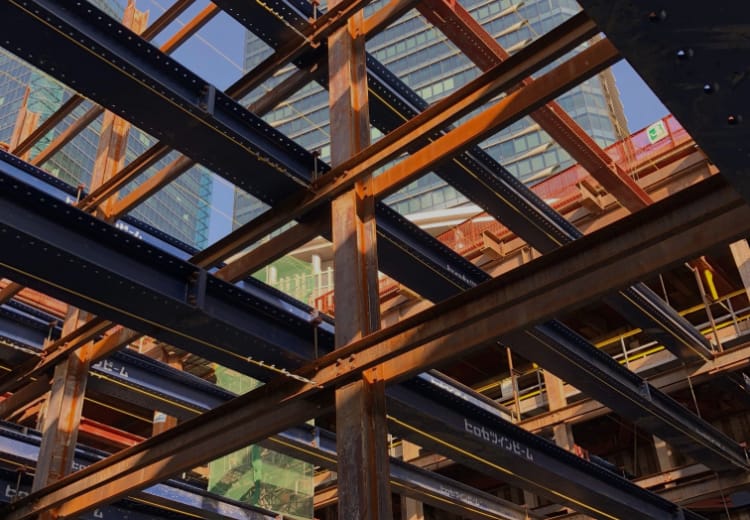 Construction of earth retaining walls that support the ground excavated at a construction site to prevent collapse of soil, and erection/dismantling work of temporary shoring to support the earth retaining walls. This also includes related ground improvement and underground obstacle removal work.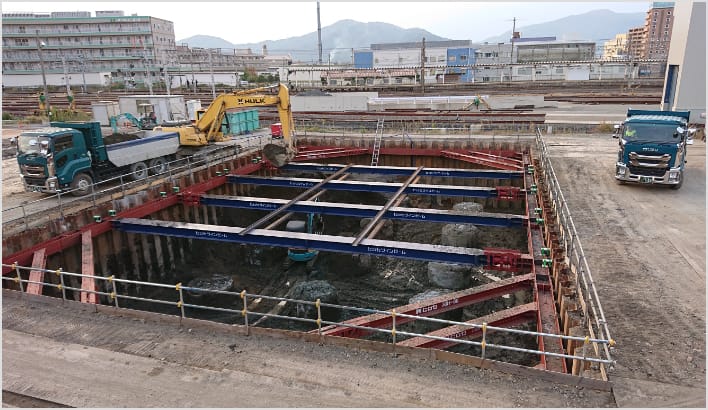 Erection and dismantling work of earth retaining shoring
During civil engineering and building foundation work, the excavated ground is supported by "earth retaining shoring" to prevent the soil from collapsing due to earth pressure and water pressure. This includes erection and dismantling of "earth retaining shoring."
Horizontal strut method
Assembled strut method
PS earth-retaining method
High rigid protruding raking pile construction method
Ground anchor construction method
SCB® construction method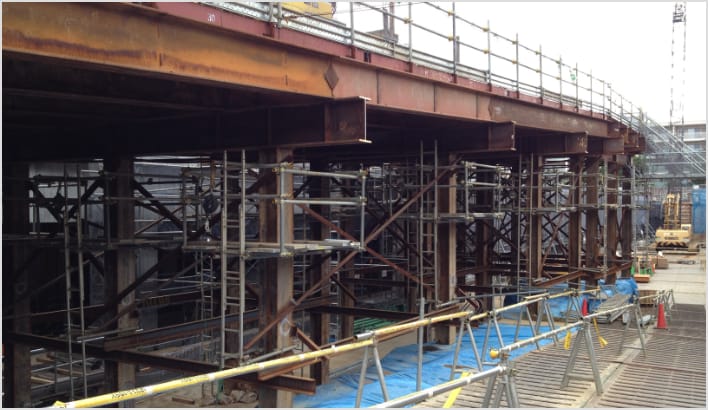 Erection and dismantling work of piled jetties
On construction sites, piled jetties are used as working platforms for excavation, structure construction, and the demolition of existing structures, including earth retaining shoring. Usually, piled jetties consist of bearing piles, sleepers, joists, covering plates, horizontal braces, vertical braces, and horizontal ties, and are erected based on the calculation of piled jetties, taking into account the design loads and crane capacity.
Hi-BRIDGE construction method®
Hi-RoRo construction method®
G-piled Jetty®
KD bridge
Pre-girder® bridge
Pre-girder®(PG) underpass pedestrian bridge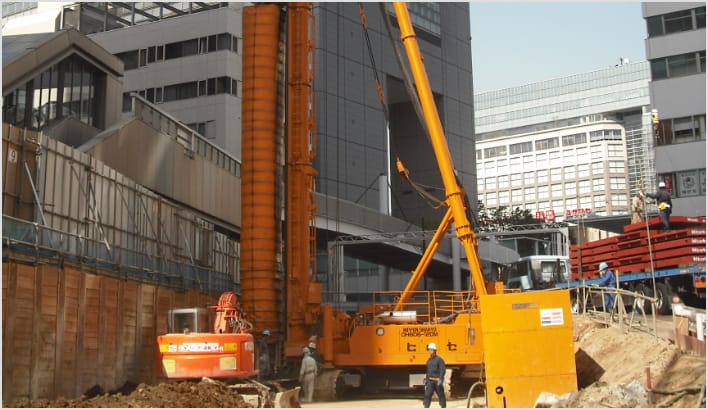 SMW (soil mixing wall) construction method
SMW stands for Soil Mixing Wall, and this is a method of constructing an underground wall made of Soil by Mixing it in-situ with cement-based suspension to construct a wall. It is characterized by its high water sealing capacity and low impact on the surrounding ground.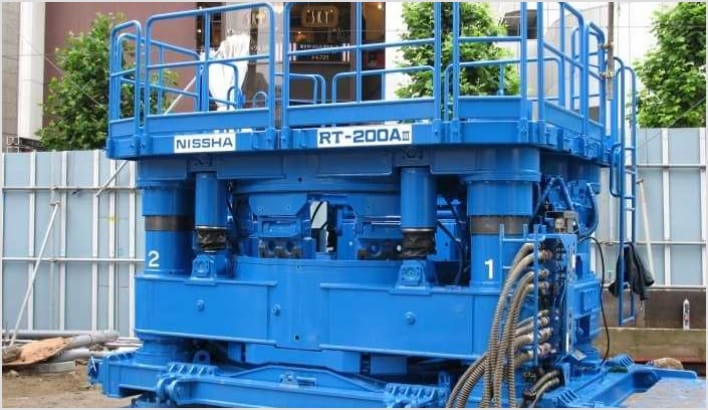 Full-slewing all casing construction method (CD method)
The CD method is one of the construction methods to remove existing underground structures (beams, columns, base plates, and foundation piles of the underground structures), after the demolition of the existing building. All the obstacles inside the casing can be completely removed with a small impact on the surrounding ground.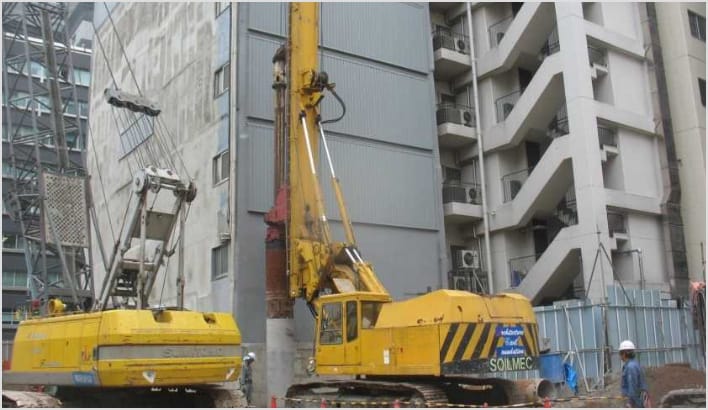 BG construction method (Multifunctional large-diameter drilling method)
The BG method is suitable for narrow, relatively shallow, or inaccessible construction sites, and can be used to remove existing piles and underground structures.
Our Works
TaiyoHirose Co., Ltd.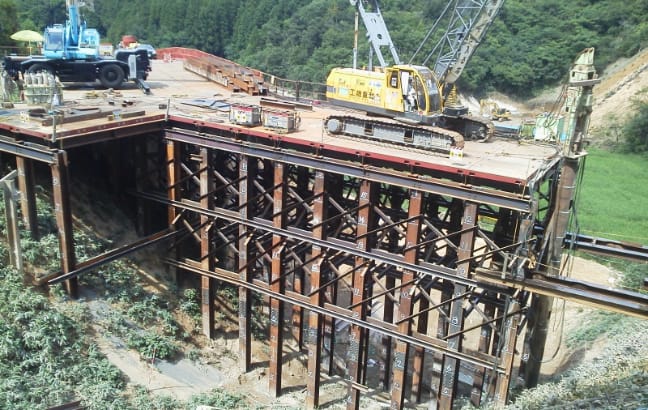 Working platform to support tunnel construction
H-beam piled jetty
Owner:

Shin-onsen Civil Engineering Office, Tajima Prefectural Citizens Bureau, Hyogo Prefecture
Contractor:

Ando/Hazama/Mori/Yoshida/Tannan Special Construction Joint Venture
Site:

Oba Tunnel
National Highway 178 Hamasaka Road is a motorway constituting the regional high-standard road, "San-in Kinki Expressway," and is an important road that supports local industries and economic activities as a bypass of National Highway 178, ensuring safe traffic during emergency and snow conditions. The Oba Tunnel construction is the construction of a mountain tunnel with a length of 749 m and an excavated cross-sectional area of approximately 80 ㎡, located on the western side of the Hamasaka Road.
TaiyoHirose Co., Ltd.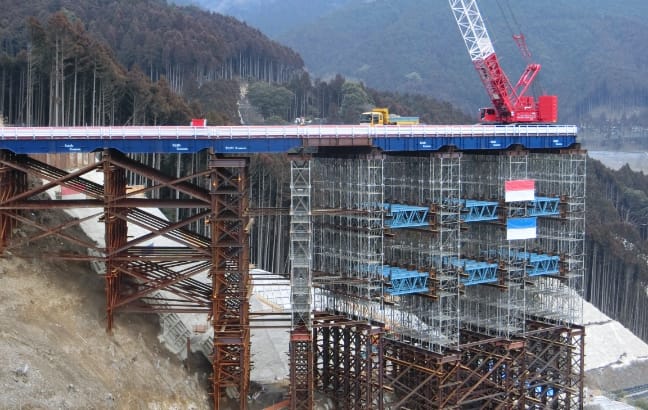 Piled jetty with a height exceeding 50 m for the construction of the largest dam in western Japan
Hi-RoRo construction method®
Owner:

Incorporated Administrative Agency Japan Water Agency
Contractor:

Kajima/Takenaka Civil Engineering/Sumitomo Mitsui Specified Construction Joint Venture
Site:

Koishiwara River Dam
The Koishiwara River Dam construction project is a project to construct the Koishiwara River Dam on the Koishiwara River of the Chikugo River system to ensure more effective use of limited water resources through the integrated operation of three dams: the existing Egawa Dam and Terauchi Dam, and the Koishiwara River Dam, for which we provided a piled jetty for the Koishiwara River Dam construction.
HIROSE (SINGAPORE) PTE. LTD.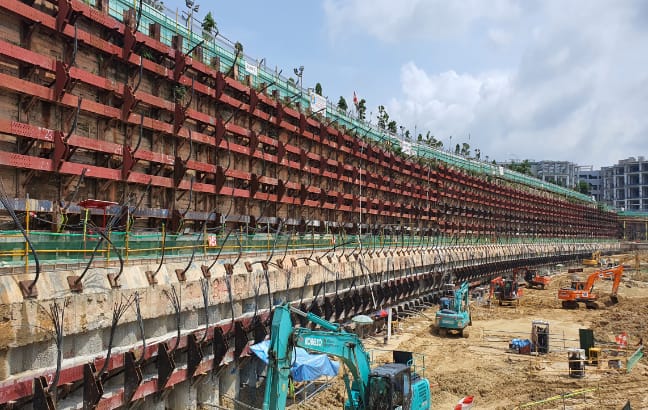 Ground anchor waling
Owner:

Woh Hup Pte. Ltd.
Site:

C821a Kim Chang metro rail depot
Location:

Singapore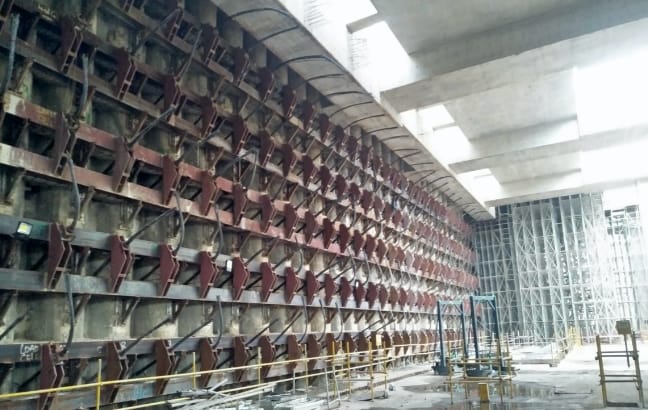 HIROSE (THAILAND) LTD.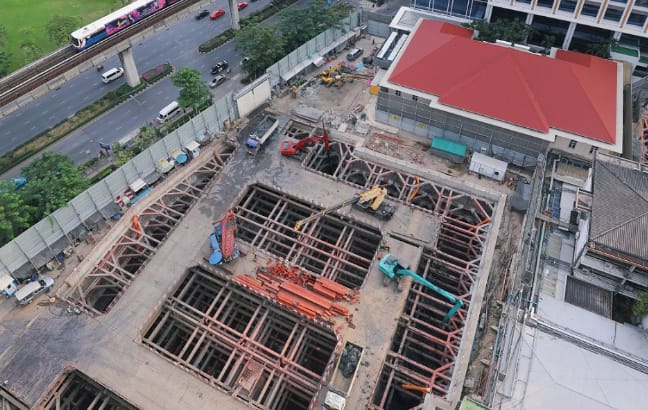 Horizontal strut, loading platform
Owner:

CH.Karnchang PCL
Site:

Chulalongkorn Hospital
Location:

Bangkok Metropolitan Area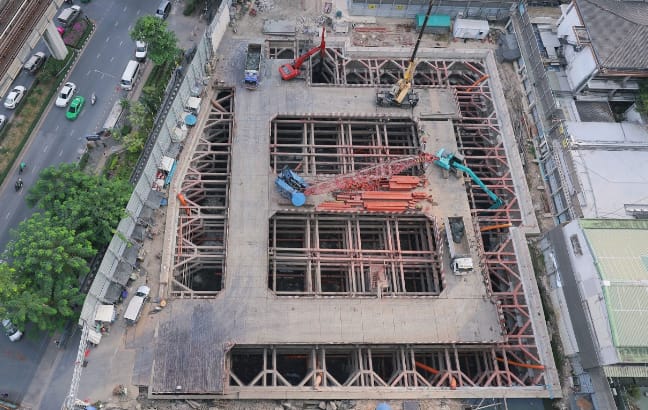 HIROSE VIETNAM COMPANY LIMITED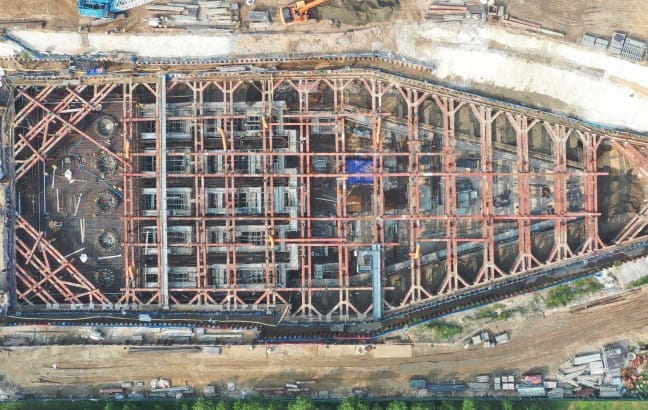 Horizontal strut method
Owner:

Marubeni Group and Korea Electricity Group
Contractor:

Construction Corporation No.1
Site:

Nghi Son 2 thermal power plant (Nghi Son 2 thermal power plant construction project)
Location:

Tinh Gia - Thanh Hoa;